Awhile back (Jan 13, 2014) I spent a day drinking tea. (In which I drink tea) Today I found the notes from that experiment and so I can get them off my desk, I'm retaining them here.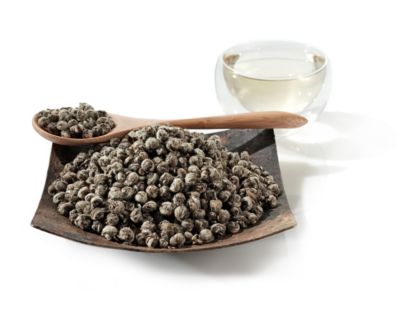 Silver Yen Zen Pearls (Tevana)

Ancient and revered, this exclusive pearl-shaped white tea was reserved for the Imperial Chinese aristocracy. Once a well-guarded secret, the rare Silver Needle tea is a masterpiece to tea aficionados. Hand-rolled, pearl-shaped tea buds exude a subtle, smooth, silky taste of exotic Asia, as each leaf releases a hint of its rarest, most delicate form.
Mellow infusion with silky sweet undertones; more fragrant cup than Silver Needle
175°
2 min: Nothing Much
4 min: Nice, slightly floral, mild astringent. Would not be offensive every day
Keep but don't repurchase.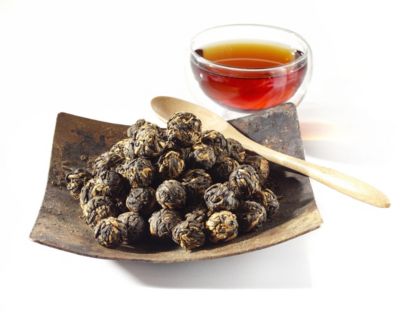 Black Dragon Pearls (Tevana)

Rare spring-harvested black tea pearls are as coveted as the legendary gems they were inspired by. Just as their bejeweled counterparts take years to become perfection, each tea pearl consists of 30 leaves and buds handpicked and immediately rolled before the leaves can dry. The famed pearls carry sweet undertones of chocolate, creating exquisitely smooth body in each cup.
Full-bodied infusion with cocoa undertones
4 min at 200°
Nice, average tea, not bitter. Would not be bad daily
Keep- possibly repurchase.

Tzai Fruit Cinnamon (Coffeeway)

3 min at 200°
Strong flavor- all fruit, no cinnamon. Very meh- I could be drinking something better.
Get rid of it.

Gypsy Love (Zhena)

Gypsy Rose is a soothing combination of organic, Biodynamically® grown black teas from high altitude gardens in India and Sri Lanka, hand-harvested rose petals from Greece and Bulgaria, and a sprinkle of prized rose oil to add an intoxicating aroma that helps to melt stress and tension away as we sip it. High-grown black tea is energizing and invigorating while the sun-dried roses grown in fresh seaside air is both transporting and romantic.
5 min at 212°
There seems to have been a name change from Gypsy Love to Gypsy Rose. Love the smell! Not for everyday but delicious.
Keep and replace as needed.

Green Tea (Salada)

From the lush tea gardens of the Orient, Salada Green Tea is a fine quality blend which continues in the ancient Orient tradition. Unlike other teas, green tea leaves are steamed rather than oxidized to create a distinctly different tea type. Once brewed, Salada Green Tea produces a delicately smooth flavor and a natural sweetness all its own.
Boring: I could drink water.
Get rid of it.
Kuchwka Grey
I could be drinking hot water.

Lady Grey (Twinings)

Mild for a Grey.
Keep but don't repurchase.

Earl Grey (Bigelow)

Better, not too strong. #3 ranking in Greys
Keep but don't repurchase unless #1 and #2 are unavailable.

Earl Grey (Twinnings)

Not as strong as Bigalow.
Keep but don't repurchase.

Earl Grey Black (Stash)

Stronger than Bigelow- ahhhh! #2 ranking in Greys
Keep and repurchase if #1 is not available.

Earl Grey Double Bergamot (Stash)

Almost the same as Black

Earl Grey Organic (Stash)

Weaker than the other Stashes. Not a suitable substitute.

Earl Grey (Taylor's of Harrowgate)

Very Strong! Maybe not 5 min. #1 ranking in Greys.
Keep and repurchase.
Lavendar Earl Grey

Not much flavor- can't imagine wanting to drink this.
For many many reviews of different Earl Greys, go here

Chocolate Hazelnut (Stash)
Out.

Blueberry (Stash)
Not awful- keep but don't replace

Zen Tea (Tazo)
Meh- not worth hunting up

Constant Comment (Bigelow)

Old favorite- not going anywhere!
Keep and repurchase as needed.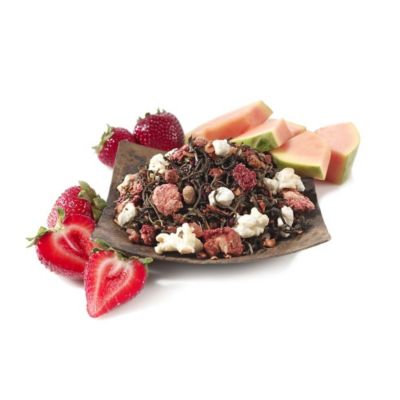 Strawberry Paradiso (Tevana)

Shangri-la awaits in every sip of tempting strawberries, papaya and snowy white popcorn. This paradise of soft white tea is a skyward temple to luscious fruit flavors.
Indulgently sweet infusion with strawberry and papaya undertones
2 min at 175°
Not a lot of flavor. I remember this as being very strong- neither ways is very good.

Thai Mountian Oolong (Tevana)

Cultivated at a heavenly 3,900 feet in one of the highest elevation tea gardens in Thailand, this majestic harvest breathes mountain-fresh floral notes of orchid, lily and wildflowers into our prized oolong to create the distinctive creamy-smooth flavor. Hand-picked and rolled with delicate precision, these high-grade tea leaves, raised in fog and clouds, elevate this mountain mix to soaring heights
3 min at 195°
Nice- smooth and conforting but meh.
Keep but don't repurchase.

Peppermint (Celestial Seasoning)

… but Mellow Mint!
Results: Keep
Pheonix Mountian Dan Cong Oolong
Earl Grey
Constant Comment
Gypsy Love
Black Dragon Pearls
Mellow Mint
And a new one added today:
Moriartea

Spicy Chai backed by more ginger. Guaranteed to burn the heart out of you. Because that's what people BREW.
I love the idea of this tea- the tea, not so much. I only steeped it two minutes and it's giving me a little heartburn because of the strong spices. It definitely will warm you up on a cold raw day however!
Keep but don't repurchase.