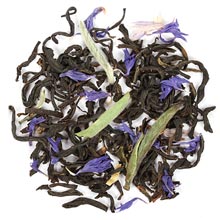 Brigadoon Breakfast
Like the fictional Scottish town of Brigadoon, this special Leap Year tea only appears once every few years. Luckily, it's every four years instead of a hundred!
Celebrate Leap Day with this Scottish Breakfast Blend of Assam and Keemun teas. We've added a touch of Silver Needle and blue cornflowers to evoke the blue and white of the Scottish flag that Brigadoon would fly.
Leap Day is needed to correct the fact that the Gregorian calendar year is about 6 hours shorter than a solar calendar year. The extra day is an opportunity to do something out of the ordinary, something that doesn't come along too often. So this February 29th, order a cup of Brigadoon Breakfast Tea, or wait until 2020.
Steep at 212° for 3-5 minutes
I've ordered this and will be reviewing it sometime soon… but if it sounds like you would like it, order it now because it won't be available by the time I review it!