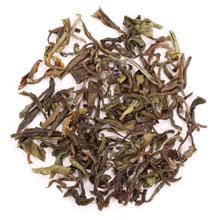 Darjeeling Spring Tip (Adagio)
Nestled in the slopes of the majestic Himalayas, Darjeeling is an Indian region famous for producing "the Champagne of tea." Misty mountain air and loamy soil combine to create some of the world's finest teas. Tea aficionados eagerly await the spring harvest tea, with its lingering floral character and crisp, dry finish. Light-bodied, yet rich in flavor, our Darjeeling Spring Tip offers the essence of nature awakening. Crisp, floral and complex. 2015 crop!
3 min @212°
In my latest order from Adagio, I sprug for a sample of the Master's collection spring tip Darjeeling. It's a lovely tea at 3 minutes… very light and faintly floral but it is very light on flavor. I'm going to add a bit more tea and brew it for 4 minutes and see what happens.
4 min @ 212°
Oh, now, that's more like! That's very good, that is. It's still a very lightly flavored tea and I think I will be prefering the more robust Darjeelings personally but this is quite a good tea. There is no astringency and no bitterness at all, it's got a lovely, sweet, almost floral taste. (People talk about it tasting of grapes but I don't taste any grape.) This is one to sip and savor, not glup down as you're running for the bus of a morning. I wish I still had some of the Darjeeling Puttabong Summer to try it against but I do believe I liked that one just a tiny bit more.